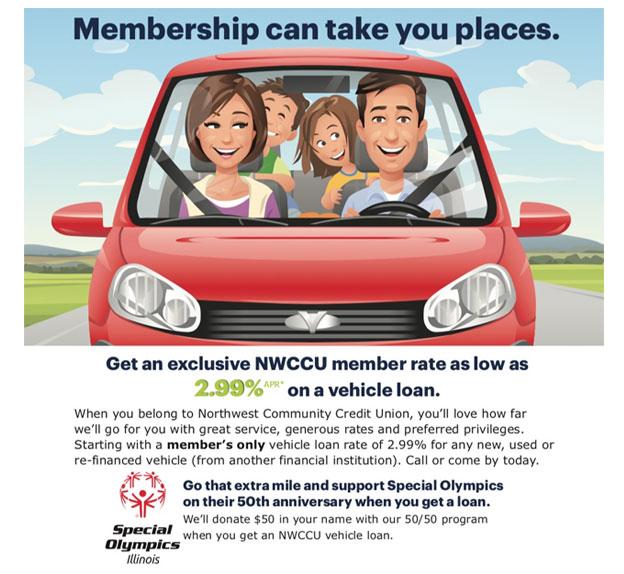 Not a member yet? Apply online, call 847-647-1030 or stop by any NWCCU location.
As the Official Credit Union of Special Olympics Illinois, our game plan is simple:
Save you money - and give to Special Olympics. Membership can take you places.  When you belong to Northwest Community Credit Union, you'll love how far we'll go for you with great service, generous rates and preferred privileges.  You choose your wheels and we'll donate $50 to Special Olympics Illinois. 
Everyone within the Special Olympics of Illinois community can participate.  By becoming a member of NWCCU all of SOILL's staff, volunteers, participants and their families are welcome to become members and enjoy the benefits of membership.
Make a donation now to help expand Special Olympics into more schools.

About Special Olympics Illinois
Special Olympics Illinois is a not-for-profit organization offering year-round training and competition in 17 sports for more than 22,500 athletes with intellectual disabilities and nearly 20,000 Young Athletes ages 2-7 with and without intellectual disabilities. Special Olympics transforms the lives of people with intellectual disabilities, allowing them to realize their full potential in sports and in life. Special Olympics programs enhance physical fitness, motor skills, self-confidence, social skills and encourage family and community support. If you are interested in learning more about Special Olympics Illinois, volunteering or providing financial support to help make Special Olympics programs possible, contact your local Special Olympics agency, call 800-394-0562 or visit our website at www.soill.org.
*Credit qualification required for auto loans. Donations made after the loan has been funded and 1st payment is made. Deposit of $10 in savings account required. Federally Insured by NCUA.